Transport for NSW is proud to sponsor GovHack 2017
In our second year, the Transport for NSW Open Data team will again be in force to help participants in understanding the data and trying to help solve some real transport related issues and problems.
Last year we challenged participants to look into how we can provide information to customers. This year... well this year it will be something different. We're not allowed to say until the competition opens but we can't wait to see what you come up with!
The Open Data hub has been updated in 2017 and we have a lot more datasets and an easier to use API setup than last year.
What is GovHack?
GovHack is an annual 'hackathon' competition where participants create things using open data. It is a volunteer run international competition and community development event, which brings together technology creatives and innovators from the private, public and government sectors with government data to explore and discover new ways to help create a better society. In 46 hours hackers form teams, identify problems to solve, build working prototypes, publish their code as open source, and make a short video showing what they did and why. Projects can include web, mobile or augmented reality applications, new analysis or even 3D printed visualisations to understand data and patterns.
Over the years GovHack has inspired governments across Australia to improve how they deliver their data, to make it easier for the public to understand how governments use revenues, and to focus more attention on delivering citizen centric services. More importantly, it has provided a sandbox to engage with the community and private sector to develop skills, capability and a new way of finding solutions.
How does it work?
Teams work together over 46 hours to explore, mash up, ideate and communicate concepts using open data. It's a competition, and there are prizes, but GovHack is a friendly creative environment. The competition is broken down into state regions. The Transport for NSW Open Data team is proud to be gold sponsors for the NSW region.
GovHack 2017 information
The main event weekend was on 28-30 July 2017. It was great talking to teams and discussing some fantastic ideas.
GovHack website
Get Involved
We will release new datasets as part of GovHack 2017 as well as revealing our challenge that we've like you to solve over the weekend. The new datasets are:
Other existing datasets that could be useful include our real-time APIs, trip planning APIs, Opal trips data and roads API. To view all the datasets we offer please visit our data catalogue.
Slack and social media
For more information and to discuss all things GovHack, you can join the GovHack Slack group GovHackHQ @ govhackhq.slack.com. You can also follow the various GovHack Twitter accounts including GovHack NSW and GovHack Australia.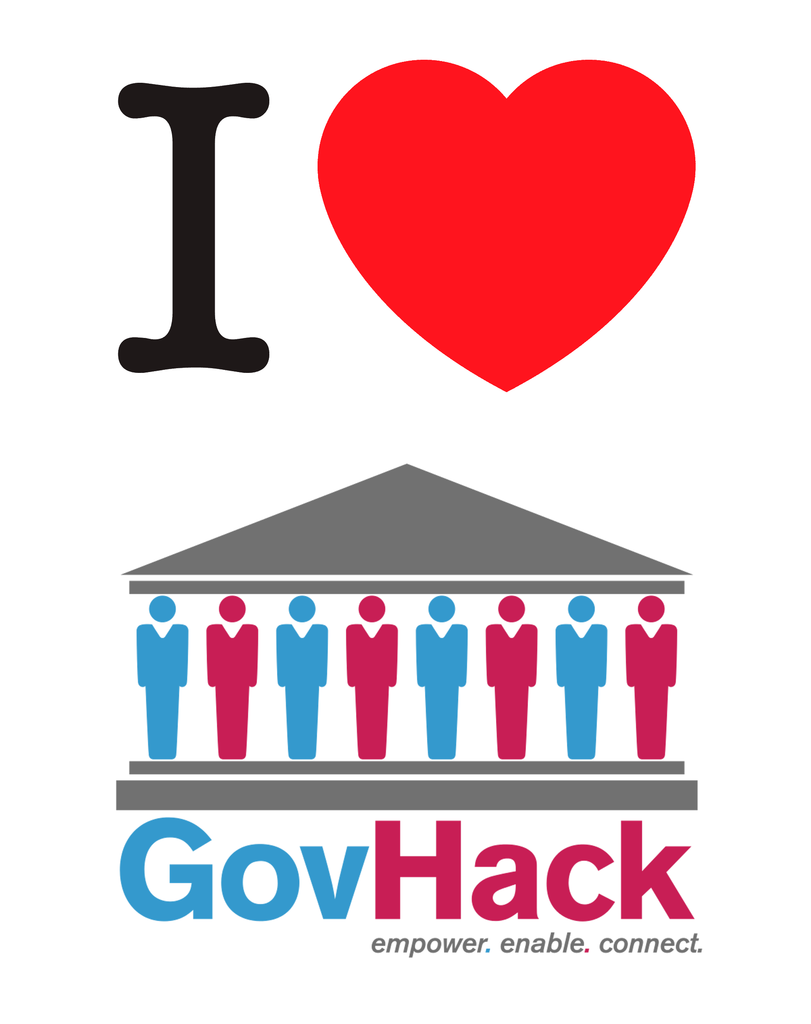 That's a wrap!
The Open Data team really enjoyed being part of GovHack Sydney 2017. It was great to see so many great ideas and so many teams using our data!
The challenge set out this year by Transport for NSW was - "Best insights into NSW's and Sydney transport demand and congestion, its causes and correlations". We were very happy to see 19 teams submit ideas to tackle our challenge. You can read more about the entries here.
Our Winners!
The GovHack NSW Awards night was held on Friday 1 September where the awards for the Transport for NSW challenge were handed out. Congratulations to the our winners the BEST team, runners-up dataTuba and an honorable mention for Everyday Awesome. These three teams presented great ideas that best met our challenge for GovHack 2017. Read more about their entries below. For a full list of all NSW winners click here.
---
Winner - The Best Team with BEST (Best Estimate of Sydney Traffic)
https://sluk.shinyapps.io/BEST/
BEST (Best Estimate of Sydney Traffic) is a visualisation tool that shows changes in the speed of traffic through key areas of Sydney, as the volume of traffic through those areas varies.
Learn more about BEST by clicking here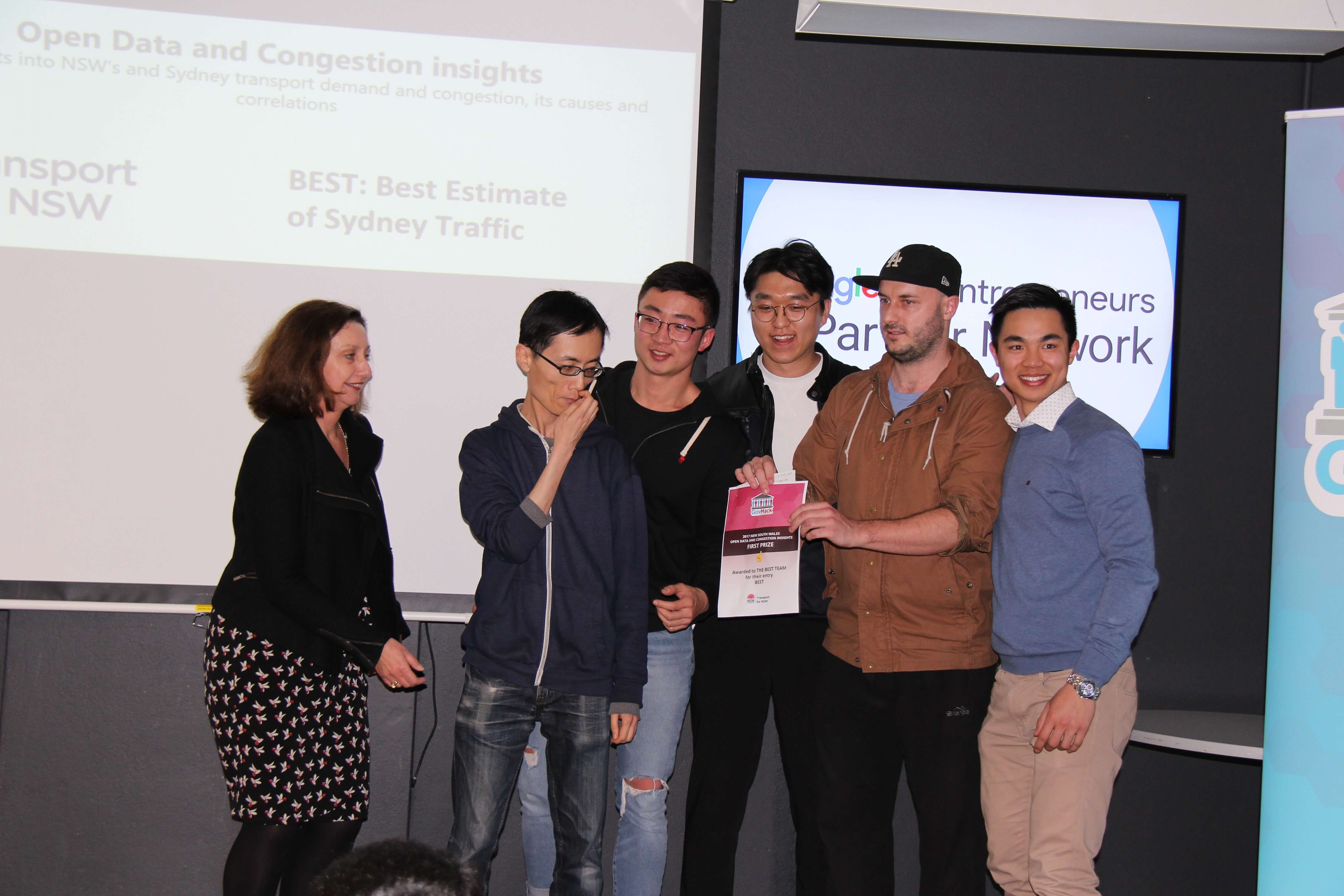 ---
Runner-up - dataTuba with Scenit
https://shry92.wixsite.com/sceneit
Scenit is a navigation app that doesn't just give you the fastest route... it gives you the most scenic. We looked at ways of encouraging people out of their cars and back on to public transport to help solve Sydney's congestion problems.
Learn more about Scenit by clicking here
---
Honourable mention - Everyday Awesome team with WaitLess
Allows people to choose which service centres they will go to based on live feeds of queuing times in waiting rooms, combining open data sets with realtime data feeds from available resources such. The solution proposes use of Artificial Intelligence and Internet of Things devices to count numbers of people in queues in various locations such as hospitals, clinics and other non-open data sets.
Learn more about WaitLess by clicking here