As outlined in our previous blog post, OpenStreetMap (OSM) is a free, editable map of the whole world that is being put together by contributors. The data from OSM is freely available for visualisation, query, download, and modification under open-content license. It provides a high level of detail and accuracy that can rival other map offerings, which at times can make it fairly complex to use. Luckily, the OSM Wiki contains everything you need to know about getting started, editing and tagging on OSM.
We've made a quick summary on how to start editing OSM as well as basics in sending queries to Overpass Turbo to mine the data. After registering for an account on OSM, you can select Edit with ID to start editing the map immediately with:
a) Points: points of interest (POIs) such as shops, restaurants etc
b) Lines: roads, railroads etc
c) Areas: lakes, buildings, residential etc
d) Tags: data about the points, lines or areas like a restaurant's name or a road's speed limit.
You can also edit what is existing in the map if the information is incorrect by clicking on a point, line or area and editing the attributes on the left panel under "Edit feature". For example, indicating a road is actually a one way street, or adding what the surface texture of the road is.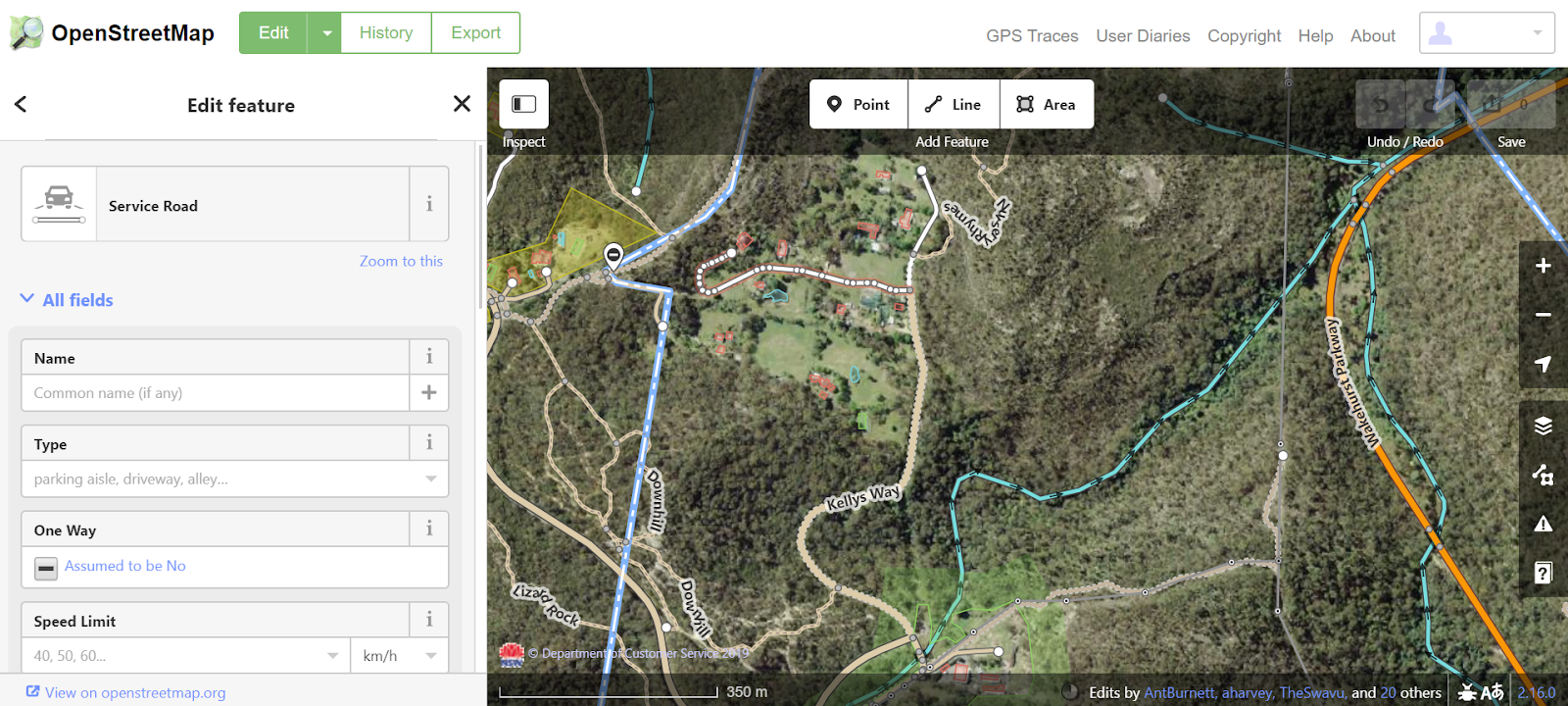 If you want to search for something, try using an Overpass Query which allows you to query OSM data by inputting your own specific search criteria. Overpass turbo is the web based data mining tool that runs the overpass query and shows you the results in an interactive map. Overpass turbo provides a wizard tool and it helps you to construct a query, which you can either modify further to get specific results or simply run the constructed query.
To see an example of an Overpass Query, type in "highway" in the OSM wiki search bar (or go to: https://wiki.openstreetmap.org/wiki/Key:highway), and click on "overpass-turbo" in the right hand panel. If you know what you're doing, you can navigate directly to http://overpass-turbo.eu/. From here, you can build and run queries and get specific about what you are looking for and in which location. You can search for points, lines and areas. You can get specific and creative (if proper tags are in place) and search for misspelled street names, tunnels without maximum height, or even power substations that have a power line of 30 meters without proper voltage, within a particular locale. If you require assistance in building the query, click on "Wizard" along the top menu bar to help you convert simple readable search terms into overpass queries.You can also save your queries for later or export your results in various formats including raw data, map or query.
As you can see, several groups benefit from data that is made available on OSM including users, researchers, software companies, disaster relief aid organisations and transport agencies. By providing visibility, transparency and detail on our neighbourhoods, we can start identifying real gaps, address quality issues, and begin conversations on how to better serve our communities so they flourish.
In our next blog, we will look at how TfNSW can use OSM to enhance trip planning for their customers.