Meet our Multilingual Innovation Challenge Winners
The Multilingual Innovation Challenge was launched on 8 March 2021, with the goal of improving the public transport experience for customers not fluent in English. Our two finalists have progressed through the incubation phase and launched their solutions, which are now officially endorsed by Transport for NSW. We spoke with their founders about the new features available in their apps, the innovation challenge process, and what's next.  
Next Station 
Next Station is a transport app providing real-time public transport information in Sydney, Melbourne, the Gold Coast, and Brisbane. The app is feature rich, including trip planning, timetables, real-time vehicle positions and occupancy, service alerts, route maps and the locations of landmarks, supermarkets, and schools.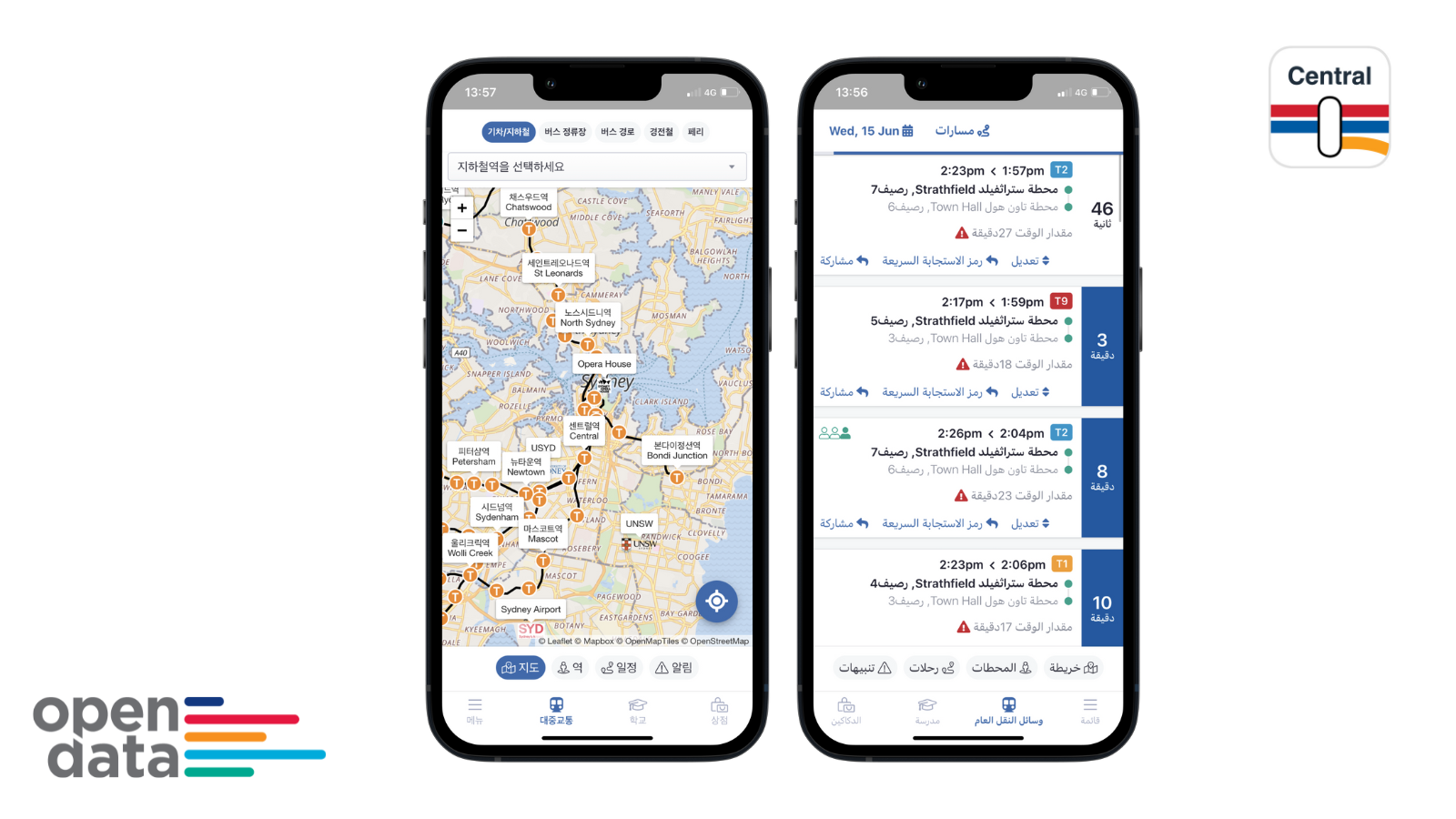 What really sets Next Station apart is the fully translated experience, from interface down to station names and travel alerts. For the Multilingual Innovation Challenge, Next Station added 6 new languages to their travel app - Arabic, Greek, Hindi, Japanese, Korean and Vietnamese - in addition to the existing language options of English, Simplified Chinese and Traditional Chinese.  
Bernice Zhang, Next Station Co-Founder, said her family inspired the creation of the app.  
"This idea came from my parents and many other seniors I know of. They often expressed their anxiety to me about the language barrier they faced when they took public transport in Sydney... as a result, they were often scared to explore such a beautiful city themselves and simply stayed in the local community", said Zhang.  
"As such, I wanted to create an app which could provide real time public transport information in different languages to assist people to overcome the language barrier when they take public transport in NSW, and eventually in Australia." 
Next Station was initially endorsed by Transport for NSW after taking home a win at our Open Data Day Pitch Competition in 2020. When asked what inspired her to enter this challenge, Bernice cited the chance to expand their service.  
"After we had successfully launched the app with Simplified Chinese and Traditional Chinese, we received lots of positive feedback from our users.  We had also seen a similar need from other communities who came from different countries and faced the same language barrier.  These all motivated us to expand our service to offer more language support such that we could help more people to break the language barrier when they took public transport." 
"The Multilingual Innovation Challenge gave us a precious opportunity to get the support we desperately needed to expand our service.  We were all very glad to be selected in this challenge in the end and eventually expanded our service from 3 languages to 9 languages." 
"Throughout the process, we received lots of valuable feedback from the team. This feedback not only helped us to improve the user interface and user experience of the app, but also made our app more suitable for seniors." 
The biggest challenge they faced throughout the Multilingual Innovation Challenge was adjusting the app to suit vastly different languages.  
"The most challenging part was translating our user interface into 6 more languages and adjusting the user interface to suit the needs of each language.  For example, all languages we offer run from right to left except Arabic which runs from left to right.  The adjustment of our user interface for Arabic required significant change to our design.  We were so glad that the Open Data team assisted us with the UI test on our app and offered many great suggestions along the way." 
"The Open Data and Innovation Team has been very supportive in assisting us to improve the functionality of the app and to resolve issues we faced along the way.  I would like to take this opportunity to thank Richard, Terence, Yvonne and David for their support and assistance over the past four months.  We could never achieve this much without their kind support." 
So what's next for Next Station? 
"We aim to cover more cities in Australia and provide more information in the future. We have already covered Sydney, Melbourne, Brisbane, and Gold Coast.  Eventually, we aim to cover all major cities in Australia." 
"Apart from public transport information, we also provide landmark locations, supermarket locations, school zone, and school details in our app, and will provide more travel related information such as tourist attractions and road trip routes." 
Next Station is available on iOS and Android, as well as via web browser.  
Momego
The Momego app provides live bus and train times, step-by-step navigation, reminders, stop announcements, alerts and more in over 150 cities.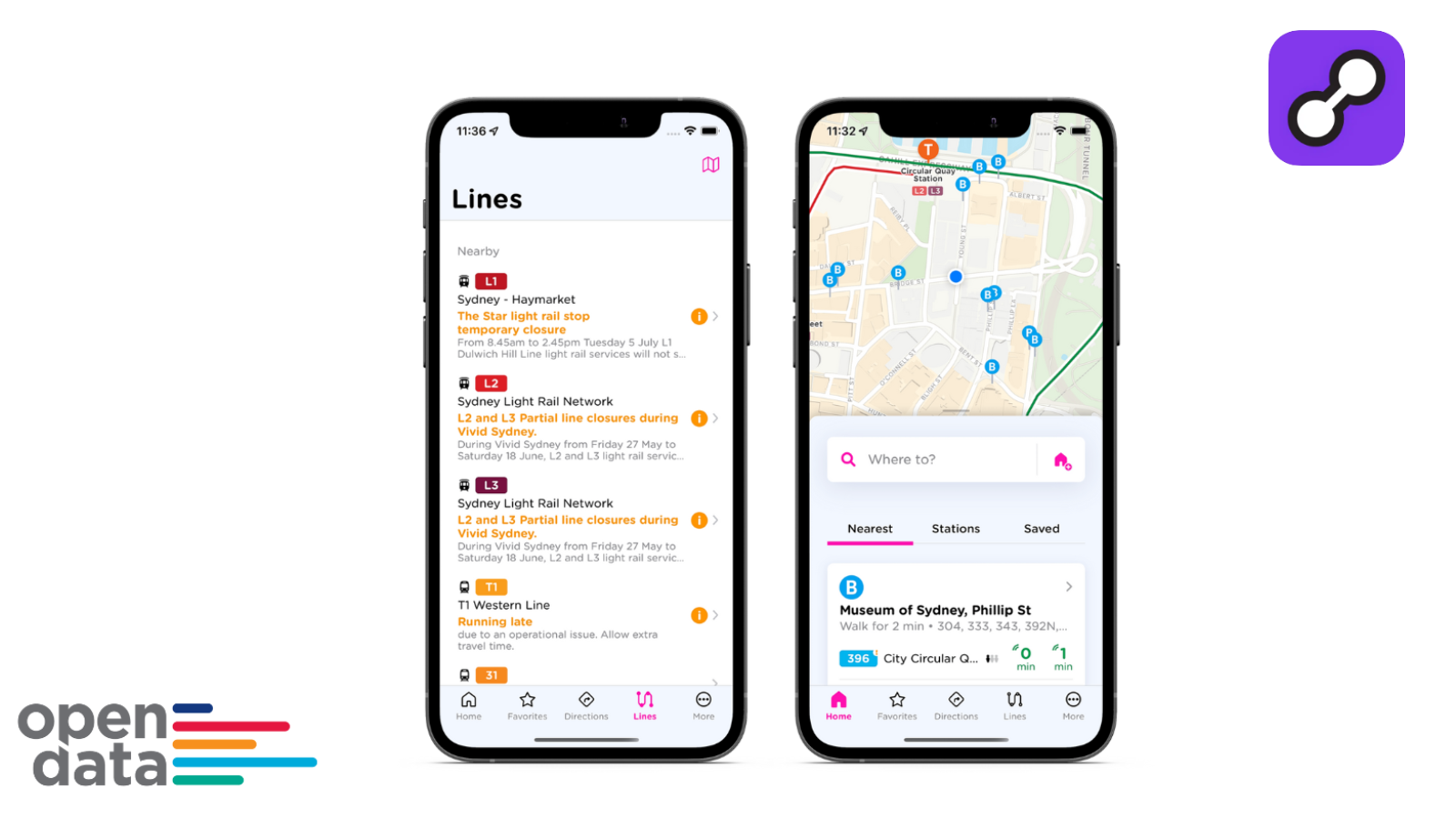 Through the Multilingual Innovation Challenge, the app has now added a fully translated customer experience in Arabic, Greek, Hindi, Japanese, Korean, Vietnamese, Traditional Chinese and Simplified Chinese. 
Momego CEO John McEvoy says the inspiration behind Momego was a desire to easily see real-time travel information.  
"As frequent users of public transport, we felt frustrated with the lack of real-time information in our home country (the UK). Sometimes you just want to see the bus on a map, to reassure you that it's coming! So we built an app that did just that, and all features (journey planning, service alerts and notifications) have sprung from that basic desire for fast, real-time information." 
Momego entered the Multilingual Innovation Challenge following the release of our TfNSW Station Names in Other Languages dataset.  
"After TfNSW put the work in to create professionally-translated station names, we knew it would work well with all the work we've done ourselves with localisation and translations. Momego is available in 12 languages, and the combination of this Open Data and our own Machine Learning provides real-time translation of hundreds of service alerts in 12 languages." 
The app relies on open data to deliver its real-time features, which is not always easy to find.  
"The whole foundation of Momego rests on Open Data, from maps and satellite imagery, to timetables and routes – our job is to glue all of these bits together to paint a picture for commuters that changes in real-time, such as service alerts or delays caused by traffic jams." 
"The biggest challenge has always been to get the best data possible, whether its live bus locations or real-time service alerts. Since we cover hundreds of cities around the world, each with multiple agencies with different ways of doing things, it's a constant challenge to keep on top of expired timetables and creaky old computer systems. I'm glad to say TfNSW's Open Data is the best in the business!" 
McEvoy says Momego underwent rigorous testing for both UX and security.  
"As part of the incubation process, Momego went through a number of strict tests and examinations: ease of use, simplicity and security were all tested thoroughly, by both the Innovation Team themselves and specialists brought in especially to push the app to its limits." 
"The TfNSW team have worked extraordinarily hard on the suite of Open Data that's available – I can tell you Sydney's Open Data platform can't be beat the world over, and we cover 180 cities around the world! The Innovation Team have been supportive and enthusiastic throughout the process." 
What can we expect to see in the future from Momego?  
"The next step for Momego is to bring commuters together: we've been running a pilot scheme in North America which allows citywide communities to come together within the app and share insights and tips into their daily commute: service alerts, missing trains, busy stations – it's a real treasure trove of information and we're keen to expand worldwide (including Sydney of course) in the second half of 2022." 
"At its heart, Momego is designed to make your journey easier, and everything we do, every feature, is designed with one goal: to improve your trip, whether it's a commute to work, or spending time with family. Public transport is the lifeblood of any good city, and we're privileged to be part of that." 
You can download Momego on iOS and Android, and read more about the app's features on the Momego website.