See NSW with our Road Trip Innovation Challenge winners
The Road Trip Innovation Challenge was launched in September 2021, in which Transport for NSW (TfNSW) asked innovators to come up with digital solutions that help people navigate our Tourist Drives and get the most out of tourist road trips in NSW after two years of restricted travel.  
Two challenge statements were posed:  
Can you create a digital solution that improves the tourism and road trip experience in NSW? 
Can you create or enhance data related to road trips that can be published as open data? 
From many interesting submissions, two were chosen to progress through the challenge. Gourmakers and CamperMate have now completed their incubation phases and launched their products.  
We chatted with Zachary Sweeney, Founder of the Gourmakers app and Matt Johnson, COO of TripTech creators of CamperMate, to find out more about their new road trip features, the innovation challenge process, and what's next.  
Gourmakers 
"Gourmakers is a gourmet travel app which makes it easier for individuals to find the best gourmet venues across Australia. From berry farms to oyster shacks, Hobart to Darwin, Gourmakers has over 2,500 gourmet venues across Australia to discover and visit" says Zachary Sweeney, Founder.  
The app was inspired by a road trip from Sydney to Byron Bay taken by Sweeney and his partner in 2020.  
"Like many people we love visiting gourmet venues in regional Australia, but quickly discovered whilst trying to plan the road trip that there was no central location with all of these venues shown on a map. We wanted to make it easier for people to find the gourmet venues they love quickly and easily." 
"The app makes it easy to find gourmet venues easily, either through filtering on the map, following gourmet trails or using the innovative route planner tool".  
Gourmakers also provides significant value to Australian gourmet producers by increasing their visibility and patronage.  
"For businesses, Gourmakers helps increase both the number of visitors and the level of visitor engagement, as the user already knows what's on offer at the venue from produce to facilities". 
With regard to the innovation challenge itself, Sweeney saw it as a great opportunity to develop Gourmakers and provide a better road trip experience.  
"Working with the Open Data and Innovation Team at TfNSW has been a highly worthwhile experience which has provided a range of valuable insights and enhanced the development of Gourmakers.The Innovation team has provided a range of suggestions based on previous projects about the best way to handle open data and maximise the value delivered to customers by presenting this information in a user-friendly way." 
Through the incubation process, Gourmakers was able to implement a range of new features into the app in order to provide an improved user experience. Most notably, Sweeney says, is the development of the Trip Planner function, "which provides a unique route plan for their road trip based on their current location and desired destination".  
"Apart from trying to decide what the best gourmet venue is to visit in NSW, I would say the biggest challenge is the amount of data that exists and how best to show this information to users", says Sweeney.  
"There are over 250,000 data points about businesses featured in the app, and whilst there are much larger data sets, each of those points could be something a user wants to know whether it be opening hours, pet friendliness or produce availability, so trying to easily show this information to the user can be a challenge."  
With regard to its use of open data, Sweeney says Gourmakers utilises two key sets of open data to help users find gourmet venues across Australia.  
"The first of these is the Australian Tourism Data Warehouse which is used by Gourmakers to retrieve the most up to date information about a range of tourism businesses across Australia."  
"The second is the Tourist Drive Data set which is used to both create gourmet trails along these tourist drives and is also utilised by the route planner algorithm to encourage people to take tourist drives instead of larger motorways." 
With the challenge complete, what's next for Gourmakers?  
"In the future Gourmakers is looking at helping create more personalised recommendations for individuals based on their own preferences, as well as trying to help encourage people to complete small weekend trips to regional areas" 
"Speaking to over 100 businesses on the road has really highlighted how difficult COVID was for regional areas. Now is a perfect time for people to go and discover the best that regional Australia has to offer."  
A huge thanks to Zachary for his time. You can download the free Gourmakers app on Android and iOS below. Read more about the app's features on the Gourmakers website, and connect with them on Facebook.  
Download now on iOS and Android.
CamperMate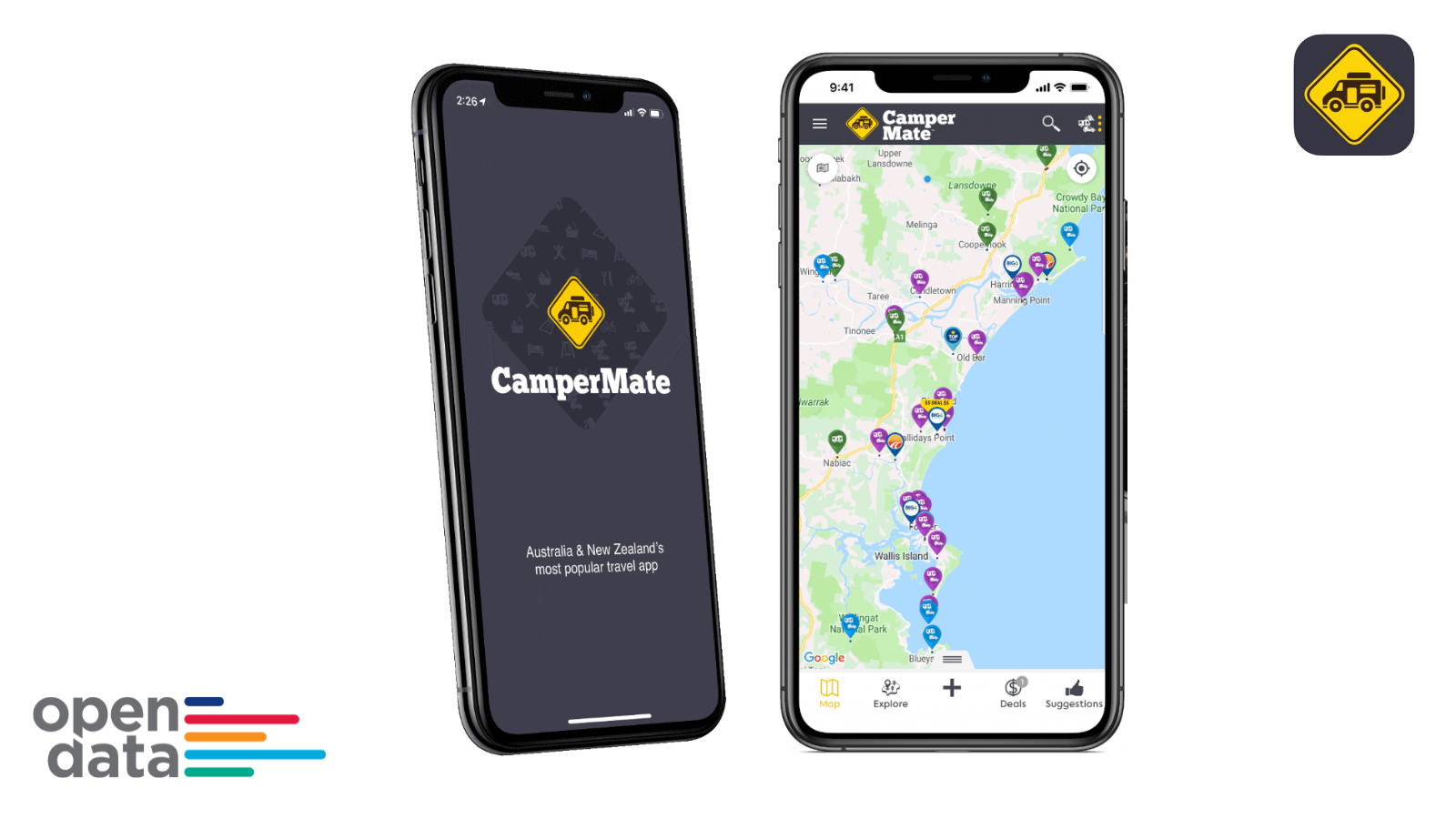 Our second solution is CamperMate by travel technology company TripTech. CamperMate is a free travel app that helps independent travellers plan and find everything they need while on the road in Australia and New Zealand.  
Packed full of helpful camping and RV-specific information, plus thousands of tips from other travellers, it's the one app roadtrippers don't want to leave home without. We asked TripTech COO, Matt Johnson, to tell us more about the app, the inspiration behind it, and the innovation challenge process.  
"While the CamperMate app was born in 2013, our story goes back to 2006 and involves a Yamaha 50cc scooter, 60 kilograms of bacon, and 1,200 eggs," says Johnson.  
"Out of boredom in 2006, our Founder rode a 50cc scooter the length of NZ, from Cape Reinga to Bluff, collecting GPS coordinates using a handheld GPS unit. The following year, he bought his first smartphone. Fast forward three years (and a LOT of door knocking on councils later), we had assembled a database of 6,000 GPS coordinates." 
For the challenge, TripTech added additional features to CamperMate.  
"We felt adding road trip map overlays into the app would provide our users with functionality to enjoy a menu of roadtrips. The benefit to the areas where the map overlays traversed is that local tourism and attractions are accessible." 
With its use of open data, CamperMate is a great tool for independent travellers and roadtrippers including families, retirees, young couples, digital nomads and adventures.  
"CamperMate has used the open data to develop a distinct digital product for TfNSW by identifying and developing the NSW Tourist Drives map overlays within our digital infrastructure and using the content to enhance user knowledge of the NSW Tourist Drives." 
Johnson says the biggest challenge they've faced with CamperMate so far has been COVID-19.  
"As with all industries, COVID brought uncertainty and challenges to tourism including the travel app space. We had to quickly change focus and bring new content & features to the domestic market at a time when many travel apps were not surviving." 
"This refocus helped us gain new users and increase sessions month on month to pick up the slack for the international audience. As a result of this we have seen steady growth in the domestic audience well into 2022." 
What does the future hold for CamperMate?  
"CamperMate will be continuing to build on the TripTech travel app network with new apps TTG (Visitors Centres of Australia) and Family parks for example. With our new data and insights team there is also a focus on using this data to assist tourism regions and tourism brands with more actionable insights to plan for the future of tourism." 
Visit the CamperMate website for more information on the app. Learn more about TripTech on their website, and stay up to date via their LinkedIn page. Download the free CamperMate app on iOS and Android below.  
Download now on iOS and Android.