Wave hello to new trials from the Waverley Transport Innovation Challenge!
Transport for NSW (TfNSW) holds several innovation challenges, which are open to the public throughout the year, in order to find innovative solutions for real world customer problems. Our innovation challenges vary from helping boaters navigate safely on our waterways, to digitising the paper based log book for learner drivers, or helping keep our clearways stay clear. Ideas and solutions come from a variety of industries and backgrounds, bringing new perspectives to the table.
In February 2020, TfNSW in partnership with Waverley Council challenged innovators, developers and startups to create a mobile app (or a Mobility as a Service - MaaS solution) for customers that gives them greater access to transport options including shared mobility services in the Waverley Local Government Area.
The objective was to direct customers to use designated on street Pick-up / Drop-off zones (known as PUDO Bays) within the Waverley LGA. The proposed PUDO zones will be allocated in 10 locations in and around the Waverley area.
PUDO Bays at Bondi Beach
The (MaaS) solutions encourage customers to use the PUDO Bays whilst providing them with more transport options ultimately reducing the use of private cars, and in turn congestion in the Waverley area.
An information session was held on Thursday 6th February at Waverley Council Chambers in Bondi to deep dive on the customer problems and objectives of the challenge. Attendees also had a chance to ask questions to our panel of experts, which you can watch on our recording of the session on YouTube.
Applications for this challenge opened on 6th February 2020, and closed on 19th February 2020. We received excellent submissions, and an internal panel representing both TfNSW and Waverley Council shortlisted four (4) applicants to pitch at our Pitch Day event in front of judges. Our judges were; Micah Starkis Director, Open Data and Innovation for TfNSW, Anne Kinsella, Director Digital Products for TfNSW, Leo Huertas Project Manager Strategic Transport from Waverley Council, and Paula Masselos, Mayor of Waverley Council.
Transport for NSW's Chris Bennetts and Waverley Mayor, Paula Masselos, at the now operational PUDO bay outside Bondi Junction Interchange, Grafton Street, Bondi Junction
After careful consideration, two companies were chosen to progress to trials. Congratulations to both Swiftfare and Moovit who will be conducting the trials of their solutions for 12 months. 
Below is a summary of the key features of their products. 
Wave by Swiftfare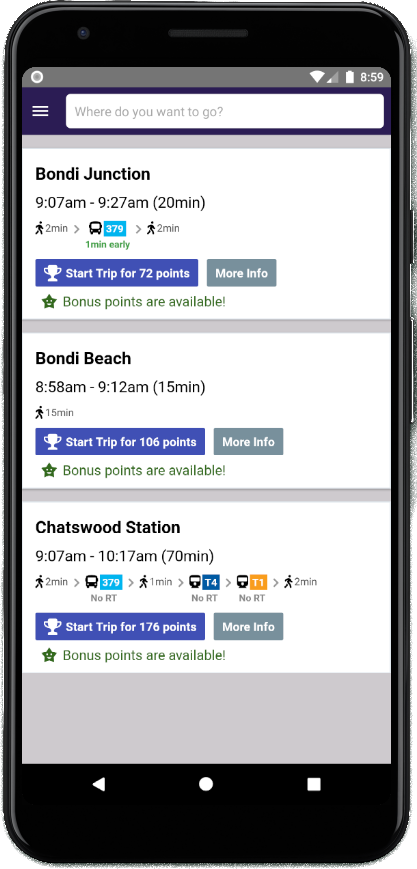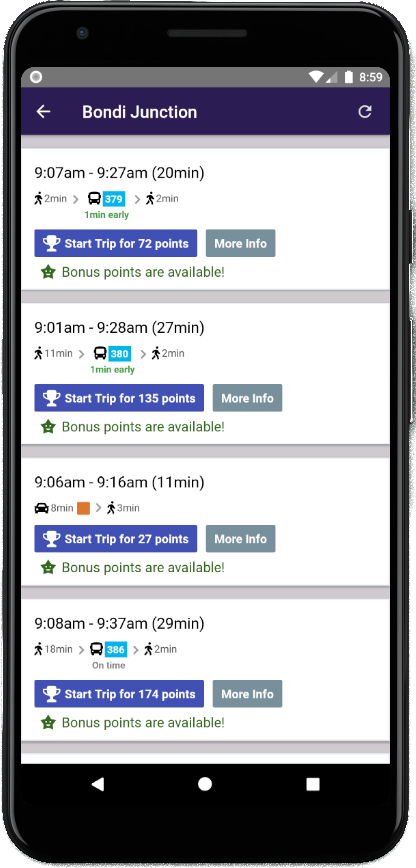 A multi-modal trip planning app for both iPhone and Android that incorporates gamification to change consumer behaviour, with a goal of increasing the utilisation of designated PUDO Bays in Waverley along with promotion of local businesses
Incorporating  PUDO/Points Of Interest (POI) discovery features
Commercialisation of gamification features through sponsorship of POIs by local businesses
Users can earn points and see leaderboards to compare socially with friends
 
Moovit
Native multi-modal trip planner application (iPhone & Android) and a web application
Integration of PUDO Bays into trip planner
User Notification – instant messaging notifications from transit authorities to app users
A data visualisation dashboard 
PUDO Bays at Bondi Junction